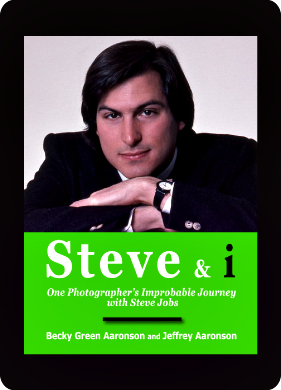 When photographer Jeffrey Aaronson received a call from Newsweek in 1984 to photograph Steve Jobs, he had no idea who Steve Jobs was or what impact Jobs was about to have on his life or the world. The personal computer had yet to be "officially" born.
Steve & i: One Photographer's Improbable Journey with Steve Jobs tells the story of a young photographer and a young entrepreneur, and the friendship they forge when they are both twenty-nine years old—just as Aaronson is beginning to offer the world a new view through his lens and Jobs is beginning his mission to change it by introducing the most user-friendly computer ever conceived.
This little book is packed with personal anecdotes and rarely seen photographs, which not only chronicle the launch of the first Macintosh personal computer, but also capture the essence of Steve Jobs the man before he became the icon.
It's a must read for those who want to experience and be inspired by a side of Steve Jobs that few people have glimpsed.
Price: $2.99 with a portion of the proceeds going toward cancer research.