The similarities between a young Steve Jobs and Ashton Kutcher are striking.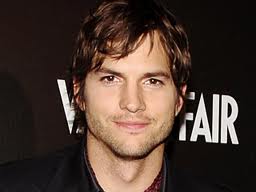 Dark features. Check. Intense eyes. Check. Thick, floppy hair. Check. Cheshire Cat smile. Check.
It's a good thing because Kutcher will be starring in an upcoming indie film about Steve Jobs, titled Jobs.
Directed by Joshua Michael Stern ("Swing Vote") and written by Matt Whiteley, the film, according to Variety, is expected to chronicle Jobs's life "from wayward hippie to co-found of Apple." Production is scheduled to begin in May.
Kutcher is best-known for his role in Punk'd and Two and a Half Men, but he is also known for his tech savvy presence on the web. With more than 10 million followers, he has been crowned the "King of Twitter." Let's hope Kutcher's interest in start-ups and technology helps give him a knowledge base that will add richness and texture to his portrayal of  Jobs' complex personality .
Sony Pictures is also developing its own Steve Jobs pic, based on Walter Isaacson's book. Rumor has it that George Clooney or Noah Wiley will play the leading role.